If you're like a lot of computer enthusiasts, you have no doubt already invested the lion's share of time, money, and care into building your desktop system. Naturally when your monitor needs replacing, you will also want to make sure that you wind up with a choice that will do justice to the system you've worked so hard to build. After all, your computer system represents a lot of time, energy, and care. Therefore, it's vital to choose the best computer monitor and make sure all of that effort doesn't go to waste.
Nevertheless, knowing that it's time to sink some money into a new monitor and actually making the right choice in regards to today's options are two different animals. As is the case with making any other major purchase, it's of the utmost importance that you make your decision with care and consideration. Here's how to make sure you make the right choice and choose the best computer monitor for you.
Read also: Don't Walk to Buy Your Next Computer, Click!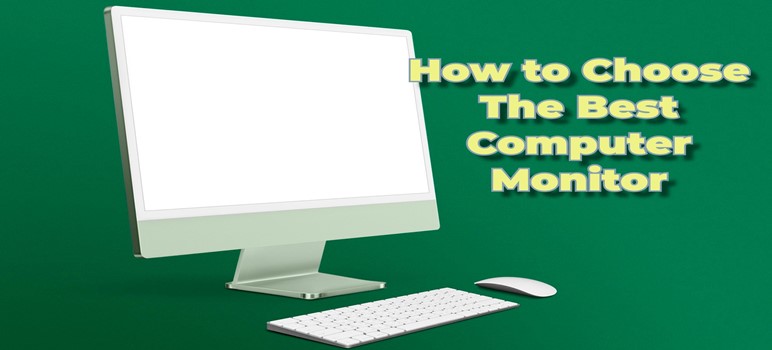 To Customize or Not to Customize
One of the first things you want to consider when picking out a computer monitor is whether or not you'll need to be able to customize in order to ensure its ability to meet your needs. If you are definitely looking for complete control over the functionality of your monitor, then you will want to make sure you go with an industrial option that lets you tweak things in order to suit the needs of your business.
However, if you would honestly prefer things to be as hassle free as possible and want an out-of-the-box option, consider opting for your standard shelf monitor options instead. Don't let salespeople or techie friends trick you into spending money you don't have on options that you won't really use! Ultimately, the only person who has to be happy with the monitor you pick is you.
Read also: How to Setup Dual Monitors
Consider Your Needs
People use computers for all different sorts of reasons, so it's important to consider what you're really looking for when it comes to your monitor and other important pieces of equipment. Will your monitor be used mostly for business transactions or basic personal endeavors at home, or do you need to think about getting a souped up version that will gel well with the gaming or the artwork you like to pursue in your spare time? Where do you see your computing time taking you into the future and how can your choice in monitors help you get there? While it's not worth it to pay for more monitor than you need, it's definitely something to consider if you have a use for the extra power.
Read also: How to Use Laptop as Monitor for Maximum Productivity
Warranty Is Important as Well
No matter how careful you are in regards to the equipment decisions you make, it's still possible for something to wind up going wrong. That's why it's important not to get so wrapped up in considering the bells and whistles attached to your monitor that you forget about the warranty. If your monitor choice doesn't wind up being all that you hoped for or if it does wind up needing to be sent in for repairs sooner rather than later, you'll be glad you opted for the choice with the ironclad warranty in place. In fact, it can be a very smart decision to shell out extra for an even better warranty at purchase time for this reason!
At the end of the day, choosing the right replacement monitor for your desktop system doesn't have to be difficult. It just requires a little attention to detail, time, and consideration to make sure that it's being done right!