There are a number of things you can repair on your computer from home. You can even make simple upgrades. However, not knowing how to properly work on your computer can result in massive damage. For example, a bit of static electricity can be enough to fry your motherboard. That's why you must practice proper safety when working on computers. Here are a few safety tips for working with computers.
[Read also: Practical Tips to Help You Install a Motherboard]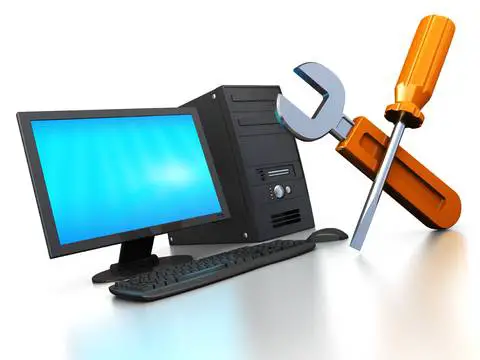 Unplug the Computer
The first thing you must do before working on a computer is to unplug it and wait for at least 15 minutes. Computers house enough electricity to kill you and they can hold that power for several minutes after they are unplugged. This means you have to be extremely careful. Don't just hurriedly jump in there to fix something without taking the proper precautions.
[Read also: How to Fix Computer Problems – Use Latest Driver Updates]
Never Work on Monitors
Monitors are something you never want to work on. Older monitors can house electricity after they are unplugged and can kill you. LCD monitors are also very sensitive and can easily be ruined by those that don't know what they're doing. When needing repairs on your monitor, it's best to leave the work to the professionals.
[Read also: A Second Monitor – When One 's not Enough]
[Read also: How to Fix a Broken Laptop Screen]
Remove the Potential for Static Electric Shock
While a zap from static electricity may not feel too bad, it can damage your computer. In fact, it can completely fry certain parts of your machine, which can be very expensive. To protect your computer from static electricity, you should never work on carpet. You should also ground yourself by using a strap or by working on a static-free mat. Some people recommend touching something metal before beginning, but straps and mats are much safer.
Avoid the Power Supply
Like the name implies, the power supply houses a large amount of electricity. Disturbing the power supply can lead to shock or computer damage. It's best to never touch the power supply. If you suspect problems with the power supply, take the computer to a professional to have it tested and possibly replaced.
Repairing your computer at home can save you a lot of money. Unfortunately, not practicing computer safety can also cost you a lot of money and may even cost you your life. You have to remember to take precautions to prevent damage to your computer. This means unplugging the computer and allowing it to set so that it can release the built-up electricity. It also means avoiding monitor repair and avoiding the power supply. Last, but not least it means removing the potential for static electric shock so that you don't fry your computer.