Tesco had this concept of redefining shopping experience and it was in Seoul, South Korea that they setup these virtual stores. They plastered the glass walls of selected subway stations with pictures showing their products. The whole layout making you feel like you were in a traditional shop.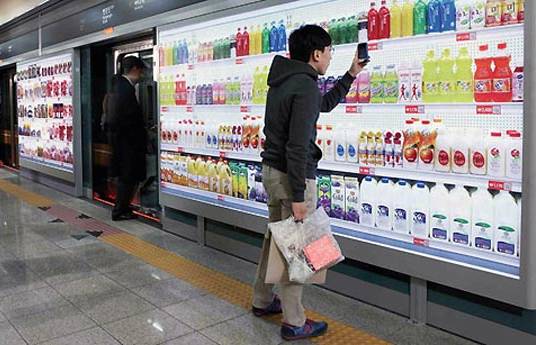 Tesco Virtual Stores: Let the store come to the people
Those pictures contain QR code (Quick Response code). While waiting for the train to arrive, people can do their shopping by scanning the QR code of a particular product via smart phones.
After scanned, the product will automatically lands on your online cart. If the train arrives before the shopping is completed, the shopper can simply wait until they get to the next subway station with the system.
When the online purchase is done, the product will be delivered to your door step right after you get home.
This virtual store will be available throughout the Seoul subway systems next month and most probably other areas of South Korea over the next 2 years.
Watch this YouTube video : Tesco Virtual Stores