When images of larger file size are uploaded in the internet, the web page takes lot of time to load. This is a matter of great concern for the users, who have a slow connection. When there are photos to be inserted in presentations, where the file size matters, resizing of images becomes significant. In a PowerPoint presentation, if images of larger sizes are added, it means that the entire presentation is huge. When more images of bigger sizes are added, say if an image of 3 MB is added to the PowerPoint presentation, and if there are 10 such images, then you cannot email this presentation to any of the recipients. This is where the image resizer software come into picture.

FastStone Photo Image Resizer- Best Resizing Software
FastStone Photo Resizer is one of the best free file recovery software, and it produces a free photo tool that performs in a great way. This is a user interface that is a bit rough, and there are a bunch of photos that can be worked on.
How to use FastStone Photo Resizer:
Launch FastStone image viewer from the FastStone image resizer software
Go to Menu bar and click the tools option
Then Batch Convert and then Rename
Select the folder that contains the files to be resized
Then specify the place where the photos would be saved after resizing
Go to the interface in the right bottom and click Advanced Options
Check Use Resize/Resample
Select Preserve Aspect Ratio
Save changes by clicking OK
If you want to get new names for the resized photos, then click Rename check box
Then click the Start button to resize the photos as a batch
This takes a few minutes and you should not disturb the process
Then click Done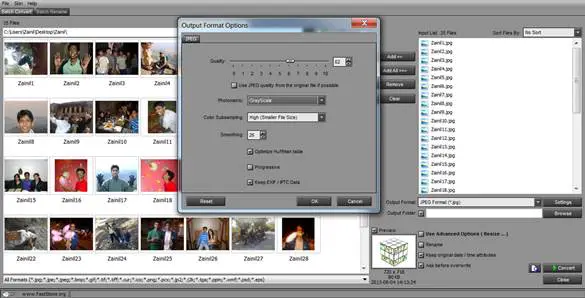 The process is completed. You can use the same technique to do other things with the FastStone Photo resizer, like crop, rotate, add text, watermark and the loads of features, this image resizer software allows.
Resizing images is not the only thing the FastStone Image Resizer software does but it also renames the images, rotate, and convert them into different formats. Also, they can be turned into black and white images, sepia, and add watermark, tweak the colors, resize them and add borders. There are much more features available in this software that makes it impressive.
[Read also: Why Choose Paint Shop Pro For Photo Editing?]
FastStone Vs other free and paid image resizing software
VSO – Light Image Resizer is a freeware image resizer for Windows and it has an easy to use interface and the app does a good job after all, until you count in the letdowns. The spywares installed in this software are annoying and if you want to remove the toolbar, then it's going to be a real hassle. When this software was offered by VSO it performed good, but currently, the hijack toolbar is installed even without asking the user and this surely makes the entire process cumbersome.
[Recommended reading: Why People Love Editing Photos with Photoshop CS6]
Free Picture Resize Starter, is a freeware image resizer and this software too offers image resizing and quite a few image responding features for various purposes. It is easy to use and apt for the basic level users. This software too has a few letdowns, like you cannot edit the presets. Though to complement this there are drawing tools, they are basic and you cannot expect professional results from these tools as you get from FastStone image resizer software. When FastStone is compared with other image resizing software in the industry, it is easy to get to know that this software is a package of anything and everything to do with the image resizing. When you want to add watermark using text and logo, then this is the image resizer you need to try. In fact, the watermark feature exceeds the expectations of the users. In short, this is the perfect image resizer to use and best of all is, this is a freeware.
[Suggested reading: Editing Software vs Photo Contests ? 5 Steps Towards A Healthier Competition]