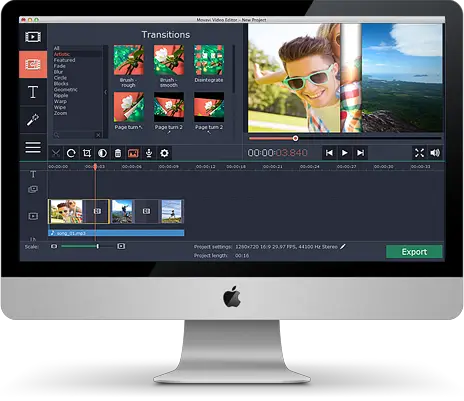 Getting to grips with video editing can often seem like an uphill battle. With such a steep learning curve it is no surprise that most people give up almost as soon as they get started – especially because they aren't able to get the results that they want. That being said nowadays it does help to be able to edit videos, both for personal as well as professional purposes.
The good news is that contrary to popular belief – video editing doesn't have to be complicated. In fact it can actually be downright simple and straightforward, so long as you opt to use a video editor that is user-friendly enough. As far as that goes your best bet would certainly be Movavi Video Editor for Mac (www.movavi.com/mac-video-editor.html) due to the impeccable reputation it has developed for being intuitive and easy-to-use.
A big part of the reason why it is so easy to use Movavi Video Editor for Mac to edit videos is its clean and accessible user interface that makes finding the tools and features you need a piece of cake. On top of that applying those features should come naturally as well because in most cases it requires actions that will feel familiar – such as adjusting sliders, resizing windows, and so on.
Suffice to say you should have no trouble locating and applying any of the features in Movavi Video Editor for Mac. As you start to try them out, you'll see that it really is a comprehensive and powerful video editor will let you:
Cut and combine segments of video to remove any unwanted footage, merge clips together, and rearrange the sequence of the video itself.
Enhance the quality of your videos either manually or automatically and fix common issues such as blurry, shaky or interlaced video segments.
Add text and customize its appearance to create unique captions, titles, or watermarks.
Include additional audio tracks to add background music, voiceovers or any other sound effects.
Insert stylish animated transitions to link scenes together seamlessly.
Apply various types of special effects and filters to alter the visual style of your videos.
Between those features you should have everything you need to tweak, edit and produce some truly incredible videos. Be sure to give Movavi Video Editor for Mac a try so that you can see firsthand that video editing need not be complicated or even difficult for that matter.