If you are wanting a change of direction in your life, in terms of employment, you may have heard people say that they know how to make money with Google.  You may wonder how you too can make money with Google.  This article gives the lowdown on 4 methods of earning money with Google.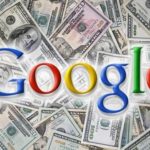 Can we really make money with Google?
Tell us what you think in the comments.
Make Money With Google – How?
The 4 main ways you can make money with Google are Google Adsense, Google Adwords, Affiliate Marketing and Google's Blogger.com.  Let's take a look at these individually, discussing the basics and benefits of these main avenues to gain revenues using Google.
Google Adsense
This is by far the easiest way to make money with Google.  AdSense is Google's own ad service that will display image, video or text advertisements on websites.  If you register successfully with the AdSense program, you will earn money anytime someone clicks on a Google Ad on your website.  The best way to make use of this service is to set up a blog and add informative and unique content regularly.  If you write about something people are looking for you stand a better chance of earning money. Please bear in mind, do not click on your own Adsense ads as this will result in your Adsense account being banned by Google.
[Read also: Google AdSense Alternatives that Work]
Google AdWords
Google AdWords is Google's own pay-per-click program. Unlike other methods which are free, Google Adwords is paid advertising that requires an investment. Basically, Google allows advertisers to bid on certain words and then for a price, Google will display their adverts under the title "Sponsored Links" in search engine results and on other websites.  If you can, you can use AdWords to attract traffic to your website to increase the sales of your product or services.
Affiliate Marketing
Affiliate marketing is where you promote and sell another company or persons goods and services for a commission.  Many of the top stores online run affiliate programs, one of the most popular being Amazon.  The best way to do this is to target a specific keyword with your website that is connected to the product or services.  This way by using proper SEO or promoting your product using popular social media network like Facebook, you can bring traffic to your website.  If the people are looking for what you are promoting, they may use the link on your page to get that service or products, resulting in commission.
[Read also: What to Look For in An Affiliate Program]
Google's Blogger.com
Yes, do not forget this method. This is an easy to use blogging platform especially for beginners who are just starting their blogging journey but have a tight budget with self hosted platform. Blogger.com is free and is ready for Adsense, Affiliate Marketing and Amazon.com. Decide your niche, register a Blogger.com account, post your own unique content on your blog and you are well on your way to start making money with Google.
So now you have a basic overview of how to make money with Google. Hope you will be able to find a method that works best for you.
What other ways to making money with Google that you know of? Let us know in the comments.