Have you heard of Fiverr.com? Fiverr.com is a website that gives you the opportunity to sell or buy a service for $5. In their own words – The place for people to share things they're willing to do for $5.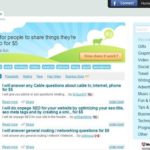 Have you tried Fiverr.com? Was it successful or other wise?
Tell us in the comments.
Services are called Gigs and are announced in the format 'I will________for $5'. A seller will be paid $4 for each completed gig and Fiverr.com keeps $1 as service charge.
There are Gigs such as " I will show you how to fix a slow computer for $5″, "I will jailbreak iPad, iPhone and iPod for $5", "I will create a cartoon avatar for $5", or some bizarre Gigs like "I will write or design anything on my feet and send you the pictures for $5", "I will text with your boyfriend to see if he would cheat on you for $5" and the list goes on.
How To Sell on Fiverr.com
You will first have to create a Gig for a small service you are willing to offer. Next you publish or share your gig with the world. If someone ordered your gig, you'll be notified and asked to accept it. After 48 hours of successfully delivering your work, Fiverr.com will credit your account with $4. You can then withdraw the money to your PayPal account.
There's a green color sidebar on the right for sellers to do some market research on what type of gigs are popularly requested.
Rest assured that there will be orders if the services that you are providing are unique and attractive.
Competition will be high as this is worldwide!
How To Buy on Fiverr.com
Look for a Gig that you like and place your order. Next, use PayPal or credit card to make the payment of $5. After payment has been made, you can track your seller's work progress, exchange files and communicate. You will get your finished work once it has been completed and you will then have 48 hours after work delivery to ask for fixes from the seller. Finally, leave your feedback and review.
Personally I think that this is a good concept as you don't have to ask "How much?" when looking at an advertisement. This could be the right place for you if you would like to make some money online by selling services or buying a service for $5. Check out Fiverr.com.
[Read also: How to Make Money with Google]
What do you think about Fiverr.com? Let us know in the comments.