When the phrase was first coined, the concept of the man cave centred around moth-eaten old sofas and tables made out of beer barrels. More recently, however, the phenomenon has acquired a sense of style and sophistication, so much so that is had begun to be appropriated by the female sex. 

But we will save a discussion of she-sheds for another day. Here, we examine some of the trends that are taking man cave design by storm and turning the male retreat into a room that everyone in the household can be proud of.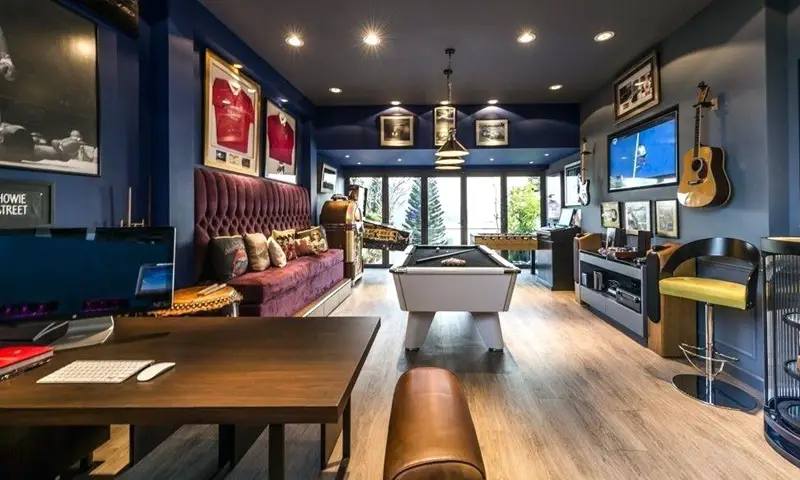 A tech focus

Ten years ago, stuffing a man cave with consoles and video games was liable to lead to accusations of being a big kid. Today, gaming is a pastime enjoyed by all, regardless of age and sex, and genres like competitive esports are exclusively aimed at the adult market.

Interconnectivity is key here. The latest big screen TVs come with a single fiber optic cable that's almost invisible, meaning you can have all the consoles and smart boxes tucked away in a closet out of sight. Embrace the Internet of Things and you will be able to control everything, from multimedia to lighting to temperature from your smartphone. 

Seating

Unless you opt for that archetypal male staple the pool table, it is fair to assume that you and your guests will spend the majority of time in your man cave sitting down. Theater-style seating is increasingly popular, and is available in a range of styles and budgets. 

Where gaming is high on the agenda, you might even consider investing in a gaming chair or two. If so, think hard about the type of games that you are likely to be enjoying, and choose one with appropriate features. For example, the best gaming chair for a battle arena game is quite different to the one you might choose for a sports simulator or a driving game.

Refreshments

Whether you're using that big screen for gaming, catching a movie or maybe watching sport, you're going to need some sustenance to keep you going. Traipsing back and forth to the kitchen is no fun for anyone, so a well-stocked bar is an absolute essential. 

However, while there is certainly nothing wrong with beer and potato chips, the latest trend is to go a step further. Consider incorporating a full kitchenette, complete with microwave, dishwasher and maybe even a hob. You'll never need to venture out again!

Accessories

Man cave plus accessories equals sporting memorabilia, right? Wrong. The world has finally woken up to the fact that not every man on the planet is a sports fanatic, you can have any kind of stylish additions that your heart desires. From wall art to sculptures to rich and decadent upholstery, the only limit to the accessories is your imagination.

Complete comfort

Remember we talked about you never having to leave your man cave if you had a kitchenette? You might have spotted a small flaw in that argument. Installing a small washroom where you and your guests can answer calls of nature is an investment that you will definitely not regret.
[Image via: Google Images]