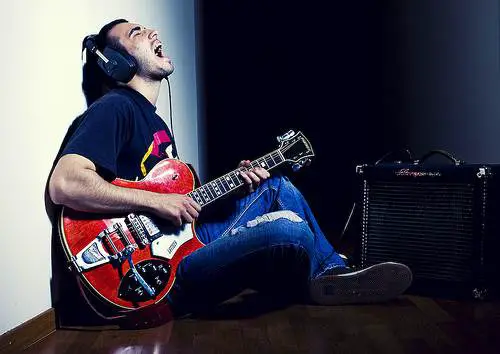 Using just Facebook to stay connected is great for keeping in touch with your friends and family. But if you love music, it always feels like something is missing to the online social experience. Fortunately for audiophiles everywhere, there's a slew of music-centered social networks that allow social media addicts to mix their love of connecting online with their love of great tunes.
If music is your life, give one of these five musical social networks a spin.
1) Myspace
Myspace? In 2013? Seriously?
Yes, seriously. Pop star Justin Timberlake along with a web development company helped give the once-great site a serious facelift. Instead of being a dumping ground for the thoughts of teenage bloggers and sparkly gifs, it's now a slick, modern media-sharing social network. You can create your own playlists from Myspace's extensive library and share it to all your friends.  And with 32 million users and growing, there are plenty of people to share with. Even chart-topping bands and online based companies like Instant Checkmate are getting in the action.
2) Spotify
The popular music streaming service also has a social component. By integrating your Spotify account with your Facebook or Twitter profiles, you can see your friends' Spotify playlists and favorite music. You can even share music with direct messages on Facebook and see what your friends are listening to whenever you log in.
3) Flowd
Want to discover up-and-coming independent artists? Then do your ears a favor and join Flowd. This smartphone-based social network allows all artists to join, and bands trying to make a break in the music business frequently take part. Like Spotify, you can connect your account to Twitter and Facebook to tell your friends about hot new bands.
The app includes a feature that tells you what music events are happening close to you, no matter where you are.
4) Tastebuds.fm
Can you tell if you're romantically compatible with someone just by looking at the contents of their iPod? Then Tastebuds.fm is the only dating site that you need. By connecting your last.fm account or by entering some of your favorite artists, you can see people in your area who have the same taste of music as you (i.e. people who have a good taste in music). By integrating your account with the popular music event service Songkick, you can also see what concerts these discerning people are attending, so you can meet up with them and let sparks fly at your favorite shows.
5) Sworly
Pinterest is a great social network if you like sharing interesting pictures, but why can't you do the exact same thing, but with music? If you've ever thought that, you need to give Sworly a try. When you find a song you like, you can add it to your "board" with tags and a comment about what you think about it. Other people can add or re-post it to their own account and offer their personal critiques of the tune.
Classic Music Sharing
The old fashioned way to learn about new bands was through your friends. Someone heard about a great band, and it spread through word of mouth throughout the entire music-loving community. These social networks are putting a social media spin on the classic path to music popularity, and socially savvy music lovers are reaping the benefits.
[Suggested reading: Get Social with Pheed]
[Image credit: Josep Malo, Flickr]