Today's mobile camera phones can give you high quality photos if you know how to use them. Just as with any other devices, you will first need to learn how to use the camera function properly in order to achieve great shots. Here are 10 useful tips to help you take better photos with your mobile camera phone.
[Read more: Is Smartphone Camera Better than A Real Camera?]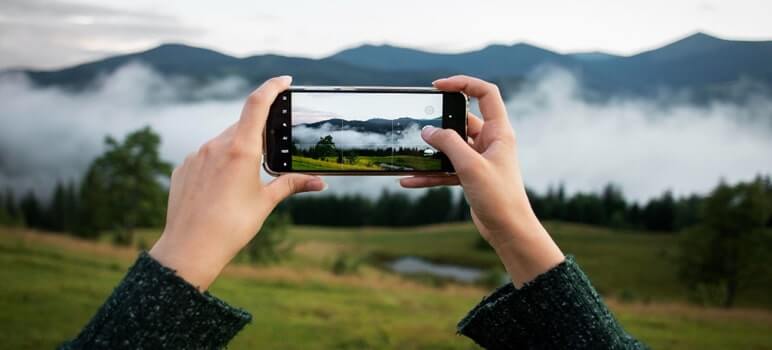 1. Familiarize Yourself With The Camera Features
Browse through the settings and become familiar with how to locate them and note what changes occur when you change settings. Most camera phones have options for making changes to resolution, flash, auto focus, shot type, white balance, color effects, and self timer options.
2. Explore Various Camera Settings
To really notice the difference in setting changes, sit in one place and snap photos of the same inanimate object or scene to see the differences in how the shots turn out.
For example, when changing the resolution settings and taking a shot of the same subject with each resolution setting, you should notice a difference in lighting, and in the crispness and clarity of each shot.
Keep in mind that if using this as your primary camera, you may wish to use the highest resolution setting, which allows you to make quality prints later.
Do this with all of the settings on your camera to learn how each change effects the outcome.
3. Avoid Using Special Effects or Adding Borders While Shooting
Focus on your subject when taking a photo, and avoid the distractions of having special effects or borders or frames in the photo. These fun effects can usually be added later when you post or share on instant messaging apps such as Snapchat, so stick to capturing the best shot possible.
4. Keep Camera Lens Clean
You handle your cell phone all day, making it very easy for the lens to become smudged or dirty. Take the time to wipe off the lens with a soft cloth before shooting a photo.
5. Use The Best Lighting Possible
Use the best natural light available. If the flash is needed as well, by all means use it. If the photo looks strange, try taking one with and one without the flash and compare the difference. Sometimes the flash can wash out the subject, making features indistinguishable. Try shooting from another angle or with the light coming from a different direction.
6. Keep Camera Steady
You can easily ruin a shot by having shaky hands. Try to steady the camera by holding your arms closely to your side. Also, stop to take the photo, as photos taken while walking will usually turn out blurred.
[Read also: Don't Be A Chicken, Try The LG G2 OIS Camera!]
7. White Balance Settings
The white balance on your phone should generally be set to Auto, however, there are usually adjustments that can be made for certain conditions such as cloudy or sunny weather, or incandescent or fluorescent lighting conditions. Changing the setting may be necessary to obtain a clear, quality shot.
8. Frame Your Shot
Try to avoid zooming in when using a mobile phone camera feature, and instead, get closer to your subject. Frame your subject, and remember, what you see on the screen is what you get, so frame it how you would like the shot to look.
9. Allow for Slower Shutter Speeds
When taking a photo with a camera phone, remember that you may get a bit of a delayed reaction, unlike with a regular camera. If possible, have your subject hold still just a bit longer to allow for this slight delay, or else your photo may blur.
10. Take Several Shots
If you're finding the quality of your camera phone photos varies quite a bit from shot to shot on the same settings, try to take several shots in order to at least have one or two "keepers".
If you are in the market for a new camera phone, visit your local mobile phone shop and check out the latest features. Some of the newer models can capture some truly great shots, so if this is your primary camera, you may want to upgrade to a better camera.