Computers have been around as a public tool now for around eighty years, and viruses weren't slow to catch up. In fact; the term 'virus' was coined as far back as 1935 to describe any self-replicating program. There have since been thousands of viruses, some widespread and some more localized, some devastating and some merely comical.
[Read also: Where do Computer Viruses come from?]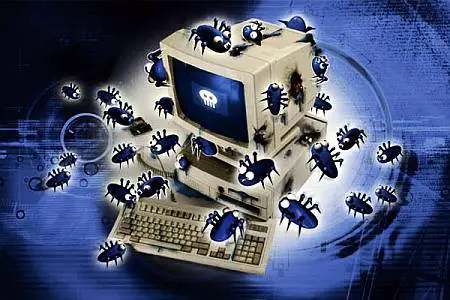 Storm Worm
A virus called Storm Worm was first identified in 2006. A Trojan Horse program, this virus popped up in e-mails with the message '230 dead as storm batters Europe'. Opening this e-mail would show a link claiming to take you to some news site to find out more. Instead, this downloaded the virus. Computers infected with Storm Worm become open to being controlled remotely by the hacker, who can then access all their personal details, play havoc with the operating system and spam the virus out further. Storm Worm is still in circulation today, and alters its messages to keep up to date with current events.
[Read also: How To Detect Malicious Websites]
MyDoom
MyDoom is another virus that creates a backdoor into an operating system. The original virus had two triggers: firstly, it began a denial of service program on Feb 1st 2004, then stopped distributing itself on Feb 12th. Even though it stopped, all machines infected remained vulnerable. MyDoom would search the victim's computer for e-mail addresses, but would also send a request to a search engine and replicate itself through addresses found that way. It slowed down many search engines, and caused others to crash.
[Read also: Sites Where You Are Most Likely to Get Hacked]
Code Red and Code Red ii
Code Red and Code Red ii were first detected in 2001. Code Red made all infected computers try to connect to the White House servers at the same time, effectively shutting down service at the White House. Code Red ii infected machines so that they would no longer obey their owner, and could be operated remotely. This meant the hacker could commit crimes on someone else's computer and remain virtually undetectable.
[Suggested reading: Top 10 Myths About Computer Viruses]
SQL Slammer (Sapphire)
SQL Slammer, also known as Sapphire, was a web server virus that, in 2003, brought down several important systems, including the Bank of America ATM service and the 911 service in Seattle, and caused several Continental Airlines flights to be cancelled. It caused an estimated $1billion worth of damage before patches and anti-virus software caught up with it.
[Read also: How Effective are Antivirus Programs?]
ILOVEYOU bug
Probably the most well-known virus of all time was the ILOVEYOU bug. This brought major viruses to the attention of the masses, as it affected many, many home computers. It worked by sending an e-mail claiming to be a letter from a secret admirer. Once opened, the worm replicated itself and hid in several files on the computer, making it virtually impossible to get rid of. It opened an attachment called WIN-BUGSFIX.EXE, which, far from fixing the bug, was actually a password stealing application. Although there are suspicions, nobody has ever been caught in relation to creating this virus, which caused an estimated $10billion in damages.