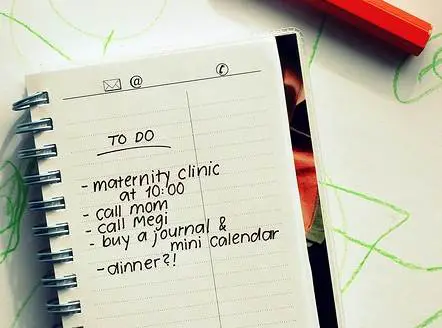 Even the most diligently organized of us will admit that half the reason we carry around a smartphone in the first place is because we simply couldn't remember where we're supposed to be without it.
Smartphone calendars have come to be our daily planners, reminder alerts buzz to tell us when to leave one meeting and go to the next, and to-do lists that sync with our contacts and maps help us to work more efficiently and with less paper than ever before.
[Recommended reading: 10 Apps to Aid Your Green Living]
If you're looking for the best companion apps to your favorite pocket mate that act like virtual secretaries helping you to plan, organize, and accomplish, there are a few productivity apps that stand above the rest in terms of quality and strategy.
1) Things
The standout app for iPhone when it comes to checklists, simplicity, and type-A personalities at their best is an app named Things. Now in version 2.2.2, Things is a pricier app at all of £6.99 at the iTunes app store, but worth every bit. Things Cloud keeps every list, item, event, and note synced from device to device. The lists and projects are intuitive and comprehensive, without being overwhelming – users enter a task, due date, priority, and comments, and then let the app do the rest until it is checked as complete.
The Daily Review is the heart of Things, allowing users to see what needs to be done on a current, weekly, or monthly basis, complete with a scrolling date picker that runs months fluidly into each other. Not only did Things win the Macworld UK Award for "Best iPhone Business & Utility App", but according to its reviews it has single handedly changed so many lives that it's worth a try, if lists are your sort of thing.
2) CalenGoo
Not to worry, Android users, there's something for you, too, and it's called CalenGoo. This task managing and calendar-organizing app is available through the Amazon App Store for £4.63. CalenGoo works hand-in-hand with Google Calendar to sync your events, to-dos, and memos to your Android by placing a widget on your home-screen that gives you constant calendar updates by pop-up, email, or text. The Google Tasks List Manager is also a part of the app, making checklists for a particular time or event a cinch.
CalenGoo is a very different animal from Things as it is highly customizable, comes with dozens of different configurations that can be styled to your liking, and focuses on putting the power into the user's hand rather than having a simple interface. Birthday reminders, icons, invitations and a number of different widgets are just a few of the myriad ways you can make CalenGoo do pretty much anything you want it to. Not an app for the simplicity-is-everything user, but definitely a star choice for the user who wants full control and functionality over their calendar and task lists.
[Suggested reading: Best Apps When Working In A Personal Office]
3) Remember The Milk
No, not the beverage! Remember the Milk is an app for Androids, iPhones, computers and Blackberry smartphones. The app allows you to set automatic updates for tasks, locations for the stages or completion of a project, and even time limits for yourself. Add repeating tasks or notes to your lists, and keep track of everything in the user-friendly, homey looking interface with handwritten titles. Free accounts are the basic version of Remember the Milk, but for about 15 pounds you can purchase a Pro version of the software for an entire year.
Remember the Milk makes collaborating on tasks easy with shared lists, so you and your colleague or spouse are on the same page, and syncs easily with iGoogle, Siri, Google Calendar, Evernote and many more. It's a clear favorite among productivity junkies, as it runs universally on most every device, and is as simple as can be but as powerful as you want to make it.
[Image source: Sandy/Flickr]