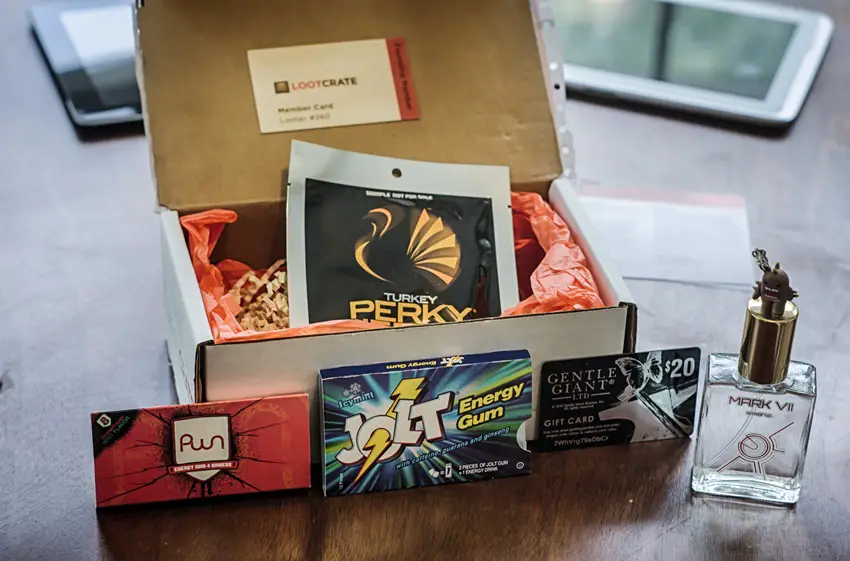 Subscription boxes can help you save a lot of money, which makes them a perfect gift for someone you love. They have sparked in popularity, especially in the recent times. Furthermore, they come in many different forms, and you can buy a subscription box thematically related to almost anything geek related (action figures, magazines, video games, apparel…)
But what are the deeper reasons behind their mass appeal?
The thrill of the mystery never gets old
While you always know what type of merchandise you can generally expect to see within the box, you never know exactly what you're going to get. This makes the whole experience exciting, since it almost resembles opening up a box of unknown treasure, dying to know what's inside. It's entirely possible that a person can spend their entire day at work daydreaming about what's hiding inside. The fact that most subscription boxes only arrive once a month makes this feeling even more intense.
An endless array of subscription boxes and themes
If you know a person well enough, it's easy to find a highly-targeted subscription box suitable to his or her liking. Ideally, the subscription box you choose to send as a gift should complement that person's hobbies and interests.
Saving money on gear you otherwise wouldn't buy
Getting a product inside a subscription box is a whole lot cheaper than directly buying the same one and paying the retail price. This is why it's such an appealing option, even though you can never really predict what you're going to get in advance. But as long as most of the things you're getting that way simply seem too cool not to have, you've definitely made a great deal.
Subscription boxers are a collector's dream
If your friends are avid collectors of cool gadgets and trinkets, geek subscription boxes will surely draw a smile on their faces. Not only are they quite affordable to give away (the monthly subscription tends to be quite low), they are surefire geek-pleasers as well. Furthermore, giving them away also relieves you of the pressure of having to select the correct item as a gift. In other words, by gifting a subscription box, it's almost impossible to miss the mark.
Best geek-themed subscription boxes
– Lootcrate: every crate contains 4 exclusive items, and the total number of items delivered can even exceed the number.
– Dungeon Crate: the perfect gift for RPG lovers. Items you can expect include dice, terrain, and figures.
– Comic Mystery Box: each box contains as much as 15 popular comics, with at least one of them being guaranteed to be a limited edition.
– Geek Chic Monthly: this is more than a suitable gift for gamer girls. Each box contains 4-5 unique pieces of jewelry, collectibles, or accessibles.
– Geeks at Heart: each box contains at least 5 geek items, sometimes even 7. You can expect wearables, beauty products, novelties, and accessories.
It goes without saying that subscription boxes are the perfect gift for your friends and loved ones. Choose your favorite one today!
[Image via: Google Images]