Windows 7 'System Repair' disc helps you to come out of various Windows errors, and other emergencies. This repair disc for Windows 7 provides various options to get your system back into working condition. You just need to insert the system recovery disk into your PC and you will get below mentioned options to repair your PC and hence, recover data: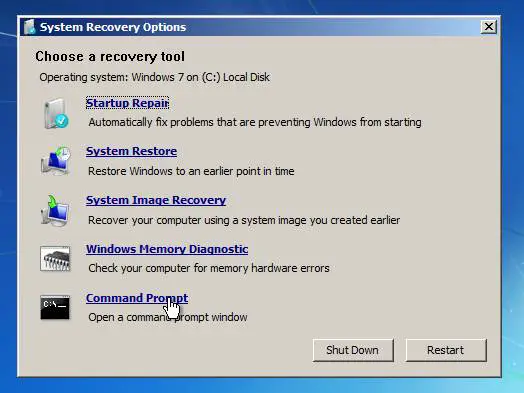 Start Up Repair: The very first option that examines integral files of Windows 7 and repairs damaged or missing files, which are preventing Windows 7 from starting up properly.

System Restore: Like normal system restore option, this option restores the system files of your PC to an earlier point in time and very likely fixes all recently developed problems. Moreover, this option doesn't affect your files like documents, photos, emails, etc. When you are using system restore from System Repair disc, you do not have any undo option. If you have another restore point, then you can run System Restore again. [Read also: Error while using 'System Restore' – Recover Files Instantly]

System Image Recovery: The backup option of Windows 7 provides you the feature to create 'System Image'. This option brings back your PC to the condition it was at the time you made the backup. It is one of the best options to get back your precious data until you create 'system image' disk regularly.

Windows Memory Diagnostic: This option scans the memory of your computer for errors. It is basically designed to remove the hardware related problems.

Command Prompt: This option is basically helpful for advance users as they can type and run recovery related commands. By using command prompt, you can rectify the problems of your computer easily until you know the command to diagnose the problems and their recovery.
Though all the options above are really useful to repair a non-working PC and recover inaccessible data, but if you have 'system image', then you can overcome the loss very easily. Below mentioned are steps that you must follow in order to create the 'system image' in Windows 7:
Click on 'Start' and navigate to 'Getting Started' and then select the option to backup your files i.e. 'Backup your files'

In next step click the link 'Create a system image'.

Then you have to decide where you want to save the image. You can choose some external drives, select some external location to save the file, or burn it on to one or more DVDs. [Read also: Benefits of Using an External Hard Disk Drive]

Next option asks you to select the drives that you want to include in backup. However, you should remember that it will add in the size of the final system image. At this screen, you should see the amount of space, which image will take and total available space. However, if you find some discrepancies here, then you can easily go back from here and make changes.

After confirmation, you can see a progress meter while the image is being created and backed up. The time taken by the backup process varies according to the size of the image file.
In this way, you can fight against devastating situations of data loss easily.
[Read also: How to Recover Windows Data Using Data Recovery Software]