Whether you are a small business or a multinational one, you have to manage your projects and your team in the best way. Thankfully, there are tons of project management tools that help you do this. As compared to other management solutions, Wrike offers the best solution and provides more value than some of its rivals. So, what is Wrike?
Wrike is a management solution that many businesses and organizations can easily use to manage their projects and teams. Used by companies including Hootsuite, Capgemini, PayPal, and HTC, it's currently one of the most popular solutions with an intuitive UI, extensive features, and strong security features. From workflows to project templates, this software can easily be customized to suit your needs. Apart from organization and work management, it makes team collaboration and online project management easy. With this software, you can assign people to tasks, share attach work files, and set deadlines to tasks. This web based tool is also available in several language including German, Russian, French, and Spanish.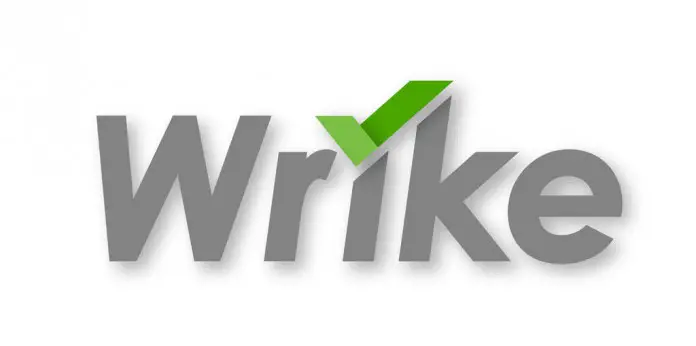 Who needs it and what makes it so unique?
With Wrike's online project management software, you can easily create a good communication chain between your team and always know what's going on. Due to its wonderful collaboration features, you can customize it to fit your needs. It's not only a robust solution, but it's user friendly and easily customizable. You can manage content creation, goal tracking, and team communication regardless of where you are. It has smart features that support the way your team works including real-time reports, custom work requests, and custom workflows.
Better collaboration
Apart from creating and organizing tasks, this software for project management also has the best collaboration features. As a manager, you can easily leave a feedback on projects. More so, the live activity stream can give you a real-time update on what your team is currently working on. Its other collaboration features include mobile apps, customizable dashboards, and a live editor and online gantt chart that allows your team to boost their productivity.
Task management
With Wrike, you will find that task management is simple. You can share, assign, and schedule a task based on what you want to achieve. More so, you can attach related files and documents to any task.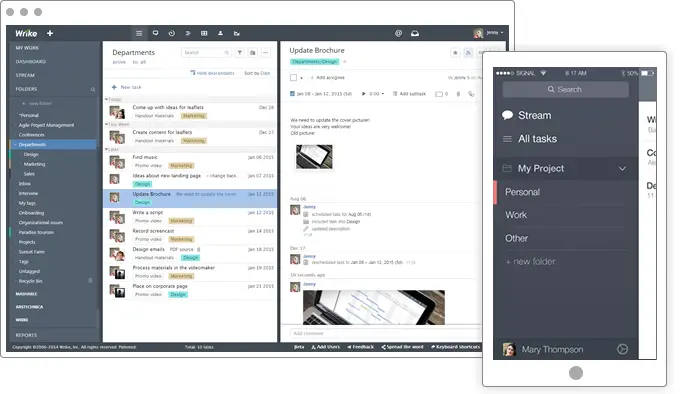 It has the best tracking and reporting
Once you have started working on your project, Wrike provides you with a high-level view of your project timeline. It has features such as an interactive Ghantt charts that help you stay updated.
Completely Customizable
Wrike can be customized to fit the needs of your team. For instance, instead of using the common workflow systems, you can come up with your own workflow using the categories you want.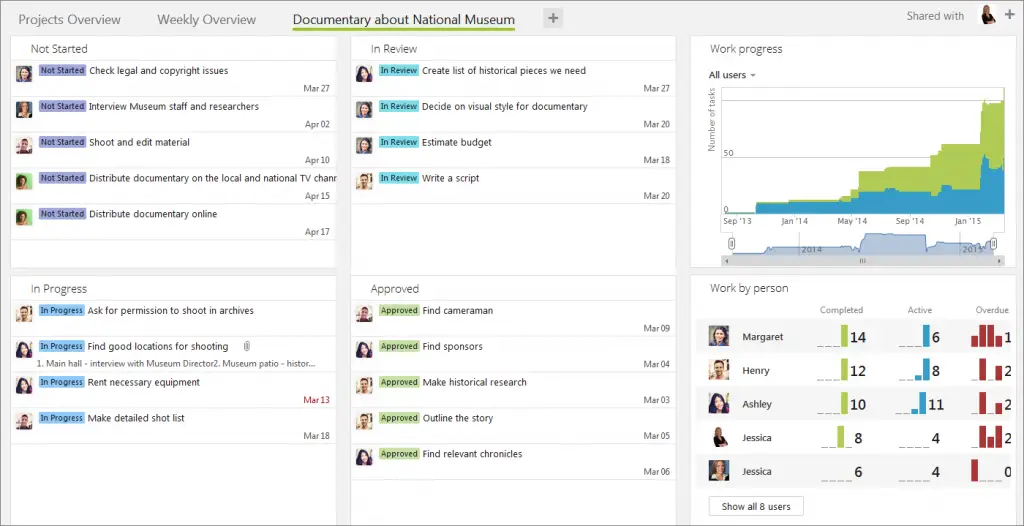 Create and Organize
From detailed tasks to fully fledged projects, you can create almost anything with this solution. Once your team is on board, you will realize that it's easy to assign work. By doing this, you can easily know how your projects are running at any given time. Also, users can attach files and edit them without the hassle of downloading them.
When it comes to project management solutions, Wrike is among the best online tools you will find. It not only has the best features but it's customizable to suit your needs. To witness what Wrike can do to your business, download the free app and start your 2 week trial.