Tablets (No, I'm not talking about the medicine type) are the in thing today, the gadget everyone has to have whether technologically savvy or not. Given the tablet's appeal and how popular it is, a majority of people do not quite understand what the gadget is.
Simply put a tablet is a computer that has the main features and functionalities of a personal computer such as, processing power, screen display,  RAM and resolution. The main difference is that tablets are portable. Also a tablet utilizes a touch screen as its main input facility.  Some of the major tablet brands include the Apple iPad, Samsung Galaxy Tab, HP Slate, Amazon Kindle and the Nook among others.
[Read more: Five Tips for First-Time Tablet Owners]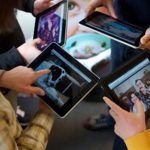 Do you think tablets are becoming the preferred computing choice? Tell us in the comments.
So why the Shift to Tablets?
By design, tablets are not made to compete with laptops and desktop computers but several important features and benefits of tablets clearly illustrate why tablet devices are the preferred choice.   The most touted benefit of course is size and portability of the tablet. The largest tablet in the market right now, the iPad is a mere 1.5 pounds while the lightest laptop is 5 pounds.  This is a big advantage for travelers, bloggers, researchers who like to travel light as well as just common folks who work while on the move.
[Recommended read: What's the Best Tablet for Business Use? Inquiring Marketers Want to Know]
Another feature greatly loved in tablets is the touch screen functionalities; they are simply amazing. Scrolling and screen rotation on tablets is very fast, something most people adore in contrast to the rigid display of a laptop or desktop.  Also tablets are super fast; the iPad features a 1GHZ processor, the HP Slate has 1.86GHZ and 2GB of RAM.  Another excellent feature is battery life with most tablets going up to 8 hours per single charge, a huge advantage to a business traveler or traveling salesmen who may need to do presentation.  Coupled with presence of Wi-Fi networks that tablets easily hook up to, tablet devices are the preferred choice.
So are we in a "Post PC" era?
A recent research by the Nielsen Company showed that people are preferring tablets in doing tasks ordinarily performed with laptops and desktops.  The research shows that 77 percent of tablet users will use their tablets instead of their laptops or desktops while 35 percent never touch their desktops.  This trend coupled with steep rise in Wi-Fi and mobile data consumption has led to what some are referring as the post-PC era. Tablet manufacturers are packing more and more power and features into tablets as people are opting for these devices and are increasingly mobile.
It appears like desktops and laptops are becoming the niche computing products for instance for office use, while tablet devices become the preferred choice for everyday computing.
[Suggested reading: Technology Upgrade – Swapping Your Laptop for a Tablet]
Are we in a Post PC era? Tell us what you think.