Emails and attachments constitute a major chunk of any email account. Lotus Notes is a collaborative program for email messaging, email storage and other activities. Emails and attachments in a Lotus Notes mailbox are stored in different folders. Moreover, emails and attachments of a Lotus Notes mailbox are saved in NSF files in the Windows Server. Lotus Notes client can be configured on a standalone system as well as several systems connected with IBM Domino Server.
NSF to PST migration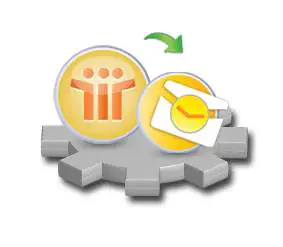 Large business enterprises need a versatile email client to cope with the growing communication demands of their employees and clients. Consequently, if we talk about Lotus Notes email application, then research shows that in recent time companies that opted Lotus Notes sooner or later have gone for NSF to PST conversion. Reasons could vary from one organization to another. But some of the most common attributes that forced these organizations to convert NSF database to PST are:
Lotus Notes demands for high technical knowledge: One can't run the application without attaining technical knowledge about its workability. Lacking a deep and proper understanding of application makes situation tricky for any user.
Providing training to novice users of Notes once again involve ample amount of time: Lotus Notes is an advanced application and therefore it becomes very vital that employees must be provided with proper training. But providing training to every new employee in an organization can't be always easy.
Lotus Notes application also involves high installation and management cost: Any organizations that have to go through lavish and unwanted investment just to maintain Notes year after year won't admire such practice in long term. In fact, it does not prove to be a favorable option for the organizations.
Consequently, many organizations these days want to abandon old email client due to growing communication expenses. MS Outlook is an efficient email client that reduces overall expenses, possesses excellent various features and capable enough to fulfill the enhanced communication needs of an organization. Adding further NSF to PST conversion has multiple benefits that are elucidated below:
With MS Outlook, user shall get large mailbox size up to 50 GB
User mailboxes with MS Outlook can be configured with an Exchange Mail Server, which is a stable networking platform
MS Outlook embraces simple features and users do not require specific training to use this client
Organizations migrating to MS Outlook and MS Exchange Server can effectively meet the email security compliance and online data management
[Recommended read: Email Upgrades – Why Your Business Need Them]
NSF to PST converter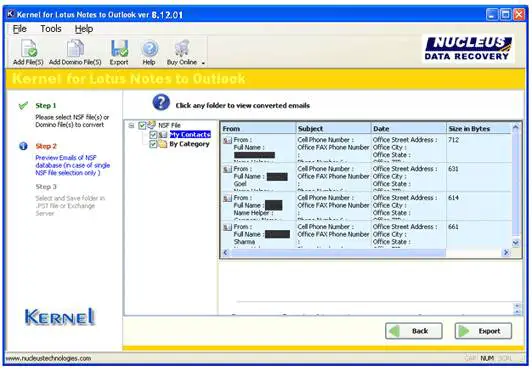 Exporting several user mailboxes from Lotus Domino Server to MS Exchange Server through manual process is a very complicated task. One must choose a professional email migration program such as NSF to PST converter to complete Domino to Exchange mailbox conversion process effectively.
NSF to PST migration software is equipped with sophisticated algorithms and therefore, capable of converting several NSF files of a Domino network to PST files of MS Outlook. You can convert several Lotus notes mail accounts of Domino Server to MS Outlook with the help of this converter.  NSF to PST conversion tool fully supports conversion of UNICODE characters.
This tool quickly extracts all items of a Lotus Notes mailbox such as emails, attachments, tasks, notes, journals, appointments and images from NSF file and sends to Outlook PST file. NSF to PST migration software completely maintains original text formatting and data structure of emails in the converted file. It supports almost all versions of MS Outlook, Lotus Notes, MS Exchange Server and IBM Domino Server. Demo version of this package allows limited export of mailbox data from NSF to MS Outlook. You must choose a licensed version in order to convert entire lotus Notes mailbox data into MS Outlook.
[Read also: How to Fix Outlook Error: "The messaging interface has returned an unknown error"]
Article Summary
Emails, attachments and other user data are stored by Lotus Notes client in different mailbox folders. Many organizations prefer to abandon Lotus Notes client due to growing communication expenses and other factors. MS Outlook is a stable program that can fulfill large communication needs of an organization at low cost. Migration of several Lotus notes mailboxes from Domino Server to MS Exchange environment is not an easy task. NSF to PST migration software can swiftly export several Lotus Notes mailboxes to PST files of MS Outlook/MS Exchange Server.