Have you ever toyed with the idea of creating a video collage? Unlike regular videos, a video collage would have several videos positioned within the frame – all of which playing simultaneously. With a bit of creativity, it can be a great way to create a unique-looking travelogue, or even a product demonstration or tutorial.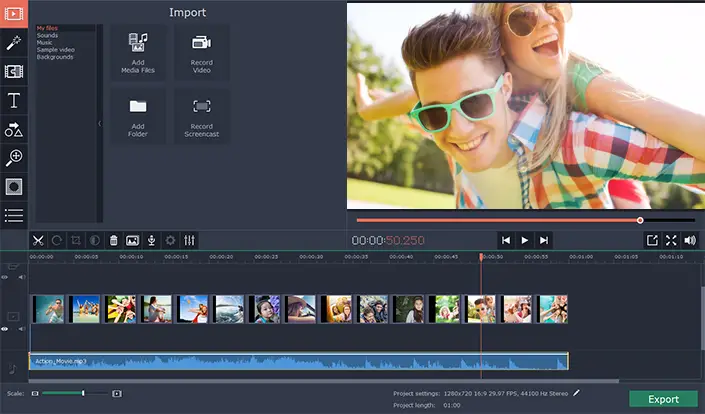 As much as it may seem that creating a video collage would be complicated, using Movavi Video Editor will ensure that it is anything but. Due to how intuitive it is, you can actually create a video collage quickly, and without having to jump through any hoops.
In fact if you want to get started right now, here's what you should do:
Launch Movavi Video Editor.
Click on 'Backgrounds' in the list located on the left, then browse the selection that is available and drag and drop the one that you want to use into the 'Timeline' below.
Adjust the duration of the background by dragging its right boundary.
Click on 'My Files' in the list on the left, then click 'Add Media Files' and select the videos that you want to include in your collage.
By default the videos that you add will appear to the right of the background in the 'Timeline' and you'll need to drag each of them upwards and drop them into the 'Overlay Track'.
Double click on the video in the 'Overlay Track' and adjust its position in the 'Preview' window then click 'Apply' when you are satisfied.
Instead of having the audio from all your videos playing simultaneously, you should mute them all. Double click each of the videos and click the 'Mute clip' button.
To add your own background music to the video montage, drag and drop an audio file into the 'Timeline'.
When you are satisfied, click 'Export' to save your video and choose a format or use one of the presets for various devices and platforms.
If you feel you need further instructions, you can find them at https://www.movavi.com/support/how-to/video-collage-maker.html. Suffice to say however, you should now know how to use Movavi Video Editor to create a video collage – complete with background music. Additionally if you explore the other features in the editor you'll also find that you're able to cut and join video clips, improve the video quality, insert text, apply special effects and filters, and a whole lot more too.
For all intents and purposes Movavi Video Editor will give you the features of a professional video editor, but packaged in a user-friendly manner that even beginners can use. Be sure to try it out firsthand, as there is no better way to see what it can do than by trying it out for yourself.
[Read also: Product Review – Movavi Video Editor for Mac]