Data loss may happen subtly or you may accidentally delete a bunch of critical files stored on your hard drive. Any type of data loss can wreak havoc by affecting your business operations and thereby disrupting the normal work flow. Stellar Phoenix Partition Recovery can aid you in such crisis situations and help you regain access to your lost data. The software is a concoction of easy-to-use and comprehensible features. It conducts a thorough scan of the entire hard drive to recover data from altered or formatted partitions. It supports FAT, exFAT, and NTFS based volumes.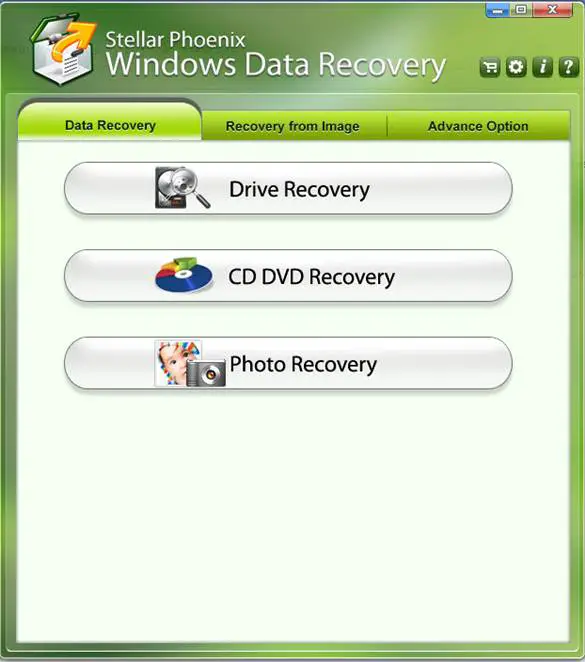 The software can efficiently recover accidentally deleted files or inaccessible data in any instance of virus infection, system software bugs, hardware malfunction, and storage media corruption. The software supports more than 185 different file types and allows addition of user-defined file types for recovery. It is bundled with a set of additional utilities that assist in the task of data recovery and build a platform to prevent the risks of any further loss.
Recovery Modules:
Stellar Phoenix Partition Recovery comprises three principal modules for recovering lost data from any Windows system: Drive Recovery, Photo Recovery, and CD DVD Recovery. 'Drive Recovery' includes a complete list of features to recover files from formatted, corrupted, or inaccessible hard drive partitions. The 'Raw Recovery' option of this module allows a signature-based file search and displays better results than achieved through a normal scan.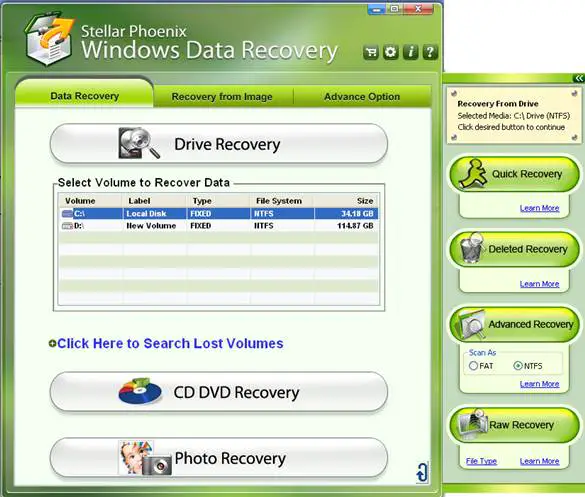 'Photo Recovery' scans the selected volume for image, audio, video, and other multimedia files. Much to a user's delight, the software provides a dynamic preview of photos during the scan. This allows users to verify the scanned data simultaneously and stop the process anytime if the results are not satisfactory.
With the 'CD DVD Recovery' module, data can be easily rescued from any physically damaged or incorrectly burnt optical media. The software can effectively extract all fragmented data or recover data from any missing sessions on the optical disc. It supports all common CD DVD file systems, such as ISO 9660, Joliet, UDF, HFS, and Rock Ridge.
Unique Recovery Capabilities:
Stellar Phoenix Partition Recovery supports larger hard disks with a storage capacity of 2 TB and more. It has a much faster scan engine to save considerable amount of time and make recovery a snap for the end users. Additionally, it can auto-detect and recover data from any removable disk inserted into the system on the fly.
Help and Support:
Stellar provides online support on 24×5 basis in the U.S., Europe, Australia, Asia Pacific and the Netherlands. Customers can communicate over phone as well as chat and call via Skype. The company website also has an extensive list of knowledge base articles to provide a better understanding of the product.
Stellar Phoenix Partition Recovery can easily recover all your seemingly lost files and help to mitigate any potential risks of further data loss. Despite its recovery credibility, the software has a non-destructive conduct that makes it one of the best and risk-free utilities available in the marketplace.
Many times, user comes with a situation of loosing their precious data/files from hard drive and similar storage devices. There might be plenty of solutions already available over the Internet but due to lack of proper guidance or sufficient information about the product, user comes with a result of permanently loosing their data due to files overwritten or incapable software.
This article includes enough information and step by steps guide to efficiently salvage their every bytes of data. The software entitled 'Stellar Phoenix Partition Recovery Software' is designed to recover data from hard drive, CD DVD, Removable Media etc. and runs in read only mode which ensures that the deleted data will never become overwritten. Moreover, the software is equipped with several other features like 'RAW Recovery', 'Quick Scan & Deep Scan', 'Drive Imaging & Cloning', 'SMART Tool' etc. which always inform about hard drive status and let them take image or clone the entire drive as well as allows user to salvage damaged or virus infected files from the drive.
Computer problems are tragic moment that no one could expect or would like to face but the hurdles do exist and can prevent ongoing operation. As a result, user would likely to face many computer problems like 'Blue Screen of Death', 'Hard Drive Error Messages' and many others. This data recovery software comes in shareware version and allows user to see the preview of any lost, deleted or formatted files before the actual recovery, so that they can ensures themselves that they can still recover their files.
Pros
Stellar Phoenix Partition Recovery helps to get overall your data loss blues by facilitating safe recovery of data from all types of internal or external storage devices, such as hard drives, USB drives, flash memory devices, damaged CD/DVD and optical media.
Cons
The software enhances user experience with a rich set of options and a streamlined recovery approach. However, it is not a cost-effective solution for situations, wherein you have only one or two files missing from your main hard drive. Moreover, saving deleted files is disabled in the demo version.
Final Thought

With Stellar Phoenix Partition Recovery, the tedious job of recovering lost or deleted files from a Windows partition is minimized to a sheer three step process – 'Select', 'Scan', and 'Save'. The interface of the application is lucid to offer ease-of-use and greater flexibility in recovering data.
Read also: The Importance of a Disaster Recovery Plan