OLX India is a company that has been a pioneer in the creation of the consumer to consumer selling market in India. Over the past two years, this company has made strong efforts that focus on developing a mobile site along with native apps for an online Mobile Classifieds site. There are many advantages to using the OLX mobile app for both people looking to buy or sell something.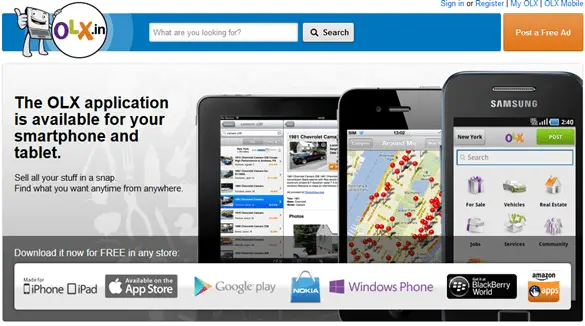 What Exactly Is OLX ?
OLX is a free web based platform where users can post free classifieds. It can also be used to promote such services as education, for job postings, as well as serving as a venue for the buying and selling of all types of different products.
Mobile OLX App Is Even Easier To Use
OLX smartphone apps have been optimized to make the whole mobile experience easier than ever. Now users can search and find what they are looking for right from a mobile phone. Users can even buy and sell products using the mobile app as opposed to a desktop computer. Because of the improvements in the app, all of this can be done simply and quickly.
Benefits Of Using The Mobile OLX App
There are many benefits for both buyers and sellers in using the OLX app. For sellers, simply click on a picture within the app of the type of product you wish to sell and then list a brief description of the product and features. Include the approximate price of what you wish to charge for the product and provide potential buyers with your contact information. To post your classified ad and make it available to consumers, simply click on the product's picture.
Users can conveniently enable the location feature on their smartphone to search and browse products for sale in their immediate area. The OLX mobile app does not require the sharing of location coordinates, however, by using the map integrated with the app it allows users to search for products by location. This allows for buying or selling wherever you happen to be, even while away from the home or workplace.
[Suggested reading: What Are The Common Things That People Buy Online]
What Makes the OLX App Different?
The OLX app differs from many other mobile apps in that they are what is referred to as "native apps". This means that they will interface better when used in each specific platform of the site. They also incorporate the use of APIs to allow for the inclusion of features such as photo clicking and auto location. This assists in the uploading and ad posting processes.
Where Can I Get The OLX Mobile App?
The OLX Mobile App is available for download at Google Play for Android. Users of Apple devices can download the app by visiting OLX Classifieds in Apple Store. As for other platforms, please visit the OLX Mobile page to download the mobile app.
Conclusion
OLX and their classifieds website have seen tremendous growth over the past two years, with an estimate that traffic to their site has increased to 55 times more than when they started. As of July of 2013, they had hit the 600 million page views mark. As the company continues to grow in such great strides, the mobile app will become increasingly popular. Download yours today to see how simple and effective it is to use and to see what you've been missing out on.