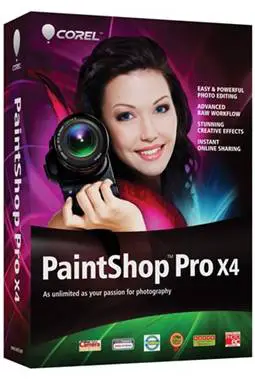 If you love photography then you'll love PaintShop Pro, the perfect software for editing photos and images easily.
PaintShop pro has hundreds of features that range from the incredibly simple to more complex professional features meaning it is ideal for home use, as well as for professional graphic and web designers.
When you download this amazing image editing software you'll get extensive support from the integrated Learning Centre so amateur users can create truly professional results whilst those with more knowledge can take advantage of the extensive tools to edit their creations with incredible precision.
Ever used PaintShop Pro before? What do you think of this photo editing software? Let us know in the comments.

What features are included in PaintShop Pro?
PaintShop Pro comes with a range of great features, including an easy to use interface which makes switching back and forth between manage, adjust and edit functionalities a doddle. You can utilise the dual monitor and info panel to easily move between different modes.
Other features include layer editing, artistic brushes, selective focus, HDR batch merging, Photo Blend and many more which allow you to create a range of incredible effects.
[Recommended read: Why People Love Editing Photos with Photoshop CS6]
What can I achieve using PaintShop Pro tools?
Although PaintShop Pro can be used for printing or to manipulate images from the web, it's mainly used as photo editing software and the tools included are incredibly easy to use no matter what level of skill you have. In built tools include:
Perspective Correction that allows you to adjust perspective in pictures downloaded from a digital camera or mobile phone.
Paint Engine makes precision editing brush blending easy and offers greater stylus control through the graphics tablet.
Filters and Effects allow you to get rid of red eye, smooth skin, create patterns and create lighting effects.
Warping Tools help you to create unusual images by stretching and manipulating photos.
Background Eraser lets you remove unwanted backgrounds or areas quickly and accurately.
One Step Photo Fix adds several enhancements to a single image or a batch of images with one mouse click.
Automated Productivity Scripts lets you cut out those repetitive tasks by playing back the editing steps you take or choosing from a range of pre set steps.
Why should I choose PaintShop Pro?
This software's clever user interface means that users of all levels can achieve great results. Professionals will love the scope of the exciting range of features and amateurs will be able to enhance their skills to create perfect photos to be proud of.
[Read also: How to Keep Track of Your Photos]
Where can I get PaintShop Pro?
You can download a free version of PaintShop Pro from Soft32 so you can try out the software and see for yourself just how good it is.
[Read also: Transfer Photos from Your Phone to Your Computer with The BUMP App]