Today, a home office is a very complex work space. A computer, a printer, a DSL modem and a router, a fax machine and a phone are networked together using many cables. As we all know, these cables have an ugly habit to tangle themselves into a big and frustrating pile of knots, making you lose precious minutes from your time each day.
Another real problem with a wired network is that these cables limit the distance you can position the devices. As an example, if you want to connect a computer that is placed in a certain room to a printer in another room you will need at least one cable that has to be run down on a hallway. Moreover, keeping it out of the way might prove a real challenge. Fortunately, a few clever inventors came up with a solution at this problem that broke new ground in the market: wireless printing.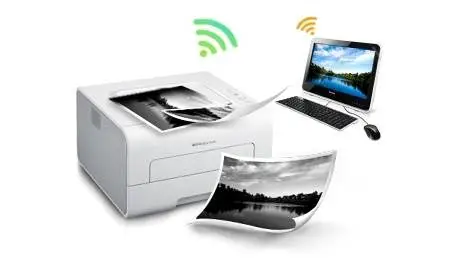 Thanks to them, you can now send a document to your printer without linking these two devices with a cord. There is more than one way you can do it. In addition to using bluetooth and infrared technology, Wifi has become accessible for a few years, allowing you to print anything by simply using your smartphone or PDA. All these modern methods of printing wirelessly are used nowadays with success.
[Read also: The Impact of Wi-Fi Technology in Different Sectors]
IrDA Wireless Printing
IrDA is a famous non profit organisation that created standards for all kinds of devices that emit infrared signals, such as laptops, mobile phones and even printers, allowing them to transmit and to receive information. An IrDA device communicates by transmitting pulses of light. These pulses, which are found in an infrared spectrum, are invisible to human eye. The communication between two IrDA devices usually bases on transceivers, which is a modern combination of a receiver and a transmitter.
The amount of data that can be transferred using an IrDA device ranges from 115.2 kbps to 16 Mbps. This means you can send a 15MB file in less than one second using the latest technology and devices. If you want to use this technology for printing, you will need the following:
Firstly, an infrared transceiver that is connected to your laptop, computer or any other devices.
Secondly, another infrared transceiver that has to be connected to the printer.
A few modern printers already have built-in unique infrared transceivers, however you will need to buy an infrared adapter to your printer if it doesn't feature an infrared transceiver.
[Read also: How to Make Money With a 3D Printer]
Bluetooth Printing
Since 2000, when a laptop and a printer were connected for the first time using bluetooth technology, bluetooth printing has become more and more popular. There are two classes of bluetooth devices nowadays: a weaker class that can transmit a signal over a 10-meter range and a more powerful class that can transmit a signal more than 100 meters away.
The difference between IrDA and Bluetooth signals is that a Bluetooth signal can extend beyond walls and doors, as long as the device is it range. This is a great advantage, especially in buildings where you have your computer on one floor and the printer on another. The process of sending the information is similar to IrDA devices, however the signal is converted into radio pulses, not pulses of light.
With bluetooth wireless printing you have the advantage of sending more print jobs in the same time from multiple devices, all to the same printer. This is commonly used in large offices, but you can also have your own network printer for a home use.
[Read also: How to Choose The Right Office Printer]
WiFi Printing
There is no doubt wireless networks are becoming extremely popular, both in companies and for a personal use. The majority of these wireless networks use WiFi, which is known for its similarity to a bluetooth network. However, WiFi data ranges from 10 Mbps to 140 Mbps, being more fast and reliable than a Bluetooth or a IrDA network.
More and more printers are built with incorporated WiFi transceivers. If you have a few Brother printers that you want to use as WiFi printers, you need to buy a wireless printer adapter or even a wireless router. The next step is to connect it to your computer and then to turn on printer sharing. You will be able to print from your gadgets too. Simply install the software (some of them already have it installed) on your phone and search for the printer.
A great advantage of a WiFi wireless printing is the top-notch speed, compared to IrDA and Bluetooth printing.
Being chained to one location or tripping over cables are two good reasons to choose a wireless printing method over the regular one. You can always choose from IrDA, Bluetooth or WiFi printing, but probably the best choice would be the WiFi technology, as it is the latest one and most widespread.
[Read also: 4 Simple Ways to Cut Printing Costs]