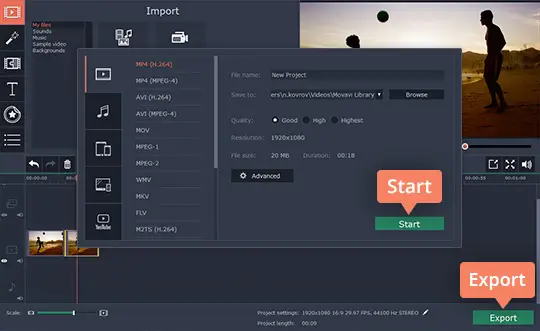 Do you want to trim out part of your video because it is spoilt, or maybe just so that you can extract a short clip from a much longer video? Trimming videos is frequently used even by professionals in order to discard bad footage and unusable footage while keeping the rest intact.
The good news is that it doesn't take much experience to trim a video – especially not with Movavi Video Editor. In fact with its help you can quickly split your video to isolate the parts you want to delete so that you can trim a video easily.
If you want to get started, launch Movavi Video Editor and select the 'Create project in full feature mode'. Next click on the 'Add Media Files' button in the editor's interface and select the video that you want to trim, or drag and drop the video file into the 'Timeline' area in the lower part of the interface.
The video that you add to Movavi Video Editor will appear in the 'Timeline', and you can click on it to select it then move the red marker to the point where you want to split the video. Once the marker is positioned, click on the 'Split' icon (i.e. the scissors) to cut the video at that point. If necessary you can split the video again to isolate the segment that you want to trim by repeating these steps.
After the segment has been isolated, click on it to select it then press the 'Delete' key on your keyboard. Another way to trim it using Movavi Video Editor is to right-click the segment then select the 'Delete' option in the menu that appears.
Naturally you can continue to split your video to isolate other parts and trim them out as well, but when you're done you should click 'Export' to save the video. In the window that pops up you can select the format that you want to use, or choose one of Movavi Video Editor's built-in presets for different devices and platforms.
Keep in mind that as a full-fledged video editor there are lots of other features in Movavi Video Editor that you can take advantage of – if you want to. It is able to join video clips, apply effects and filters, add audio tracks, improve the audio quality, insert captions, include animated transitions, and more.
Be sure to try to trim a video on your own so that you can see how easy it is to get the job done with Movavi Video Editor. When you do you should try its other features as well in order to get a sense of what they're capable as, as well as how they work.