You probably are a genius cyborg that can log into different websites using different complex passwords respectively with ease. On the contrary, if you think remembering those complex passwords for different secure websites is ridiculously tough and troublesome, then you might want to consider using a face recognition software such as FastAccess instead.
No more passwords to remember
SensibleVision is offering a convenient solution to this problem through FastAccess that makes instant login after recognizing your face. I have tested the beta version of this application on an iPad, an Android smartphone, and a Windows PC, and the results are impressive.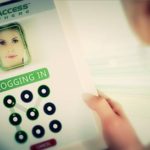 You would be aware of the failure of Android 4.1's Face Unlock application. People figured out very early that Face Unlock could be duped by the user's photograph. Google quickly modified Face Unlock and added a blinking recognition mechanism. Though, it didn't emerge as a completely secure application.
Let us see, what are the additional features in FastAccess that keep it one step ahead of Face Unlock:
Two-Factor Authentication
For starters, FastAccess provides two-factor authentication. By choosing this option, you can enroll your face and also pre-register either a symbol (such as puzzle piece, snowflake, butterfly, etc.) or a "connect the dots" gesture. For a successful login, both the elements will be required. Even if the facial recognition algorithm is tricked by the hackers using a photograph or video, they would need to know your secret symbol or gesture for successful login to your account. Both the elements pop up randomly across the screen.
FastAccess does not only enroll your face on its first use, but also discovers new elements each time you log in. FastAccess tracks approx 400-1000 points and contours of your face, including the nose, eyes and mouth. Hairstyle, hair and skin color are not tracked, because you might alter these features or the camera might induce color changes.
If your Windows PC is equipped with a webcam, you can use FastAccess's facial recognition feature to unlock it. This software cannot be used to unlock any Mac PC or iOS device, since Apple prohibits third-party developers from carrying out such measures.
Read also: 10 Tips to Secure Your Mobile Devices
Multi-User Support
FastAccess tracks users while a device is in use and immediately switches between authorized users. I created two user profiles on my laptop: one for myself and the other for my brother. I logged into my profile and handled the laptop over to my brother.  FastAccess instantly recognized his face and prompted him to select his security symbol.
When you move away from your computer, FastAccess automatically locks it. When you move back in front of the webcam, your face is recognized and computer is unlocked within few seconds.  This level of security might not be required at home, but it could be an asset for businesses that need high security.
FastAccess appears more useful for logging into secure websites including online shopping, online banking, and webmail. When you log into such websites for the first time after installing FastAccess, it asks whether you want it to remember the login credentials or not. If you allow, it pops up on your next visit and examines your face. If your face is recognized, it prompts you to select the preselected symbol or enact the preset gesture. If FastAccess recognizes both the factors, it logs you into the website and you don't need to type in the credentials again. If you use different devices to access these websites, FastAccess automatically downloads this data to each device.
Read also: Sites Where You are Most Likely to Get Hacked
Encryption
To use this software, you have to create an account on the servers of SensibleVision, where all login credentials and passwords are stored. 256-bit AES keys are used by SensibleVision to secure the credentials of each user while storing and transmitting. Rather than using a common master key for the encryption of an entire user accounts database, it uses a unique key for individual accounts. If a user account gets hacked, only that particular user will be affected.
Availability
FastAccess is compatible with Internet Explorer, Firefox, and Chrome on Windows, and Safari on Mac. It will also be available as iOS and Android apps.  The Windows version will be priced at $19.99 whereas the Mac version at $6.99 (since it cannot lock the computer). The Android and iOS apps will be priced at $2.99 each.
Read more: 7 Advantages of Biometrics in Modern Authentication
Watch FastAccess in action :
Reference Sources:
Reference for this article was taken from the following sources:
http://www.sensiblevision.com/en-us/fastaccess/overview.aspx
http://www.pcworld.com/businesscenter/article/261356/this_software_never_forgets_a_face.html