If you're finding yourself tiring of Facebook and looking for something a little less run-of-the-mill, there are numerous options to consider, but one new social media platform is making even some of the most devoted Facebook fans sit up and take note.
Introducing Pheed
Pheed, launched on October 12, 2012, is a social media that provides a unified platform that let its users to share all kinds of digital content such as texts, photos, videos, audio tracks, voice-notes and live broadcasts.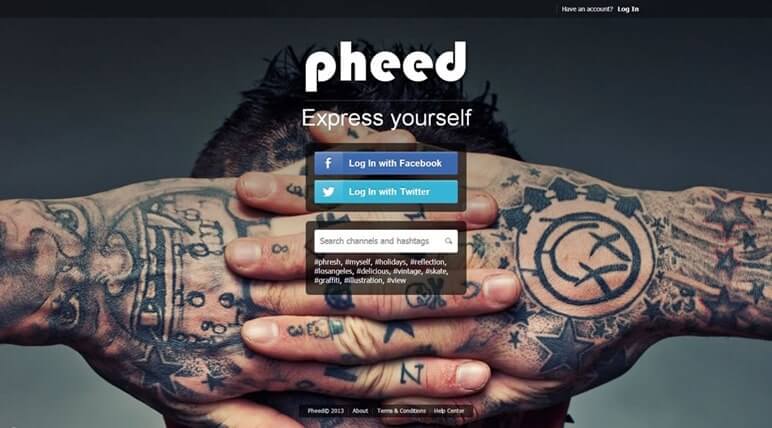 Just over a month later, this California based company, launched its iPhone app, which, within the first 6 weeks, climbed Apple's Top Charts into the Top 10 Free Apps in the social networking category. By mid-February, Pheed reached the number 1 spot, outranking both Facebook and Twitter. With over 80% of Pheed users being between the ages of 14 and 25, it is clear that it is the younger generation fueling Pheed's growing popularity.
Pheeds ranking suddenly spiked when an avalanche of downloads were triggered by several heavily followed teens reporting their enthusiasm for the platform on Instagram and Twitter thus illustrating how influential the youth sector can be in propagating an online startup's growth.
What makes Pheed any different from other social media?
One thing that sets Pheed apart from other social networking platforms is that it is monetized. Users have the option of putting their content behind a paywall, should they wish, and can charge between $1.99 to $34.99 per view. Alternatively a monthly subscription fee can be levied and the proceeds shared with Pheed. It is also possible to watermark content as well as to copyright it.
Over the past decade internet users have become accustomed to performing online transactions, and it seems as though many services that weren't monetized in the past are heading in that direction. Granted, when someone is purchasing goods from an online store, one expects to pay, but now, certain things that were free in the past have a price tag attached. A prime example is Facebook who is now levying a fee for sending messages to people who are not listed on your friends list.
The option to monetize motivates users to create quality content
The thing about charging a fee is that it encourages users to create decent content as opposed to flooding the net with unsubstantiated gossip and meaningless banter. If your intention is to retain your subscribers then you are certainly going to make an effort to give them something worth paying for. The creators of Pheed identified many problems with other social networks such as Facebook and Twitter. With Facebook they felt fans were becoming bored and looking for more exciting ways to network. Then with Twitter, they felt there were too many limitations and generally far too much poor quality content. People had lost focus and instead of concentrating on creating decent content, they became consumed rather with gaining followers.
Is Pheed ready to take on the big guys?
To illustrate how well Pheed has taken off, when Miley Cyrus launched her own Pheed towards the end of last year, her audio recording drew an incredible 10,000 visitors to the site within only half a second. The burning question is: of all of these fans, how many would be prepared to pay to view an event or subscribe to her channel? Considering the predominant age group, how many are actually earning enough to set aside money to pay for social networking? Is this actually a viable option or is this something that inadvertently sets out to alienate fans who cannot afford the luxury.
[Read also: 5 Musical Social Media for Music Lovers]
What sets Pheed apart is the monetization aspect in favor of the content creator. While there is no charge involved for owning and operating a Pheed account, the user does have the option of  applying a monthly subscription fee to their channel.
Will Pheed make an impact to the social media industry? Only time will tell.
Do you think the concept of monetized social media works? Or you think Pheed will struggle to get in the game and ended in a spectacular failure? Let us know in the comments.